Group Functions
***we are not accepting group reservation for the moment***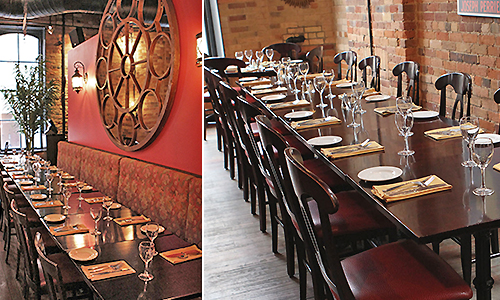 Being a very open-concept restaurant unfortunately we do not have any entirely separate rooms reserved for private parties. However, we are able to "section" off areas of the restaurant for group lunches or dinners. This allows for a relatively private, exclusive area for your party without missing out on the atmosphere and décor of the restaurant. Groups of 15-30 are easily accommodated. Should your group be larger we would be happy to try and accommodate you so give us a shout and we'll see what we can do!
We also have special group three course Prix Fixe menus for lunch and dinner with some wiggle room to accommodate allergies, vegetarians, or personal preferences. We also open early to accommodate school groups wishing to practice their French and have an affordable "Menu Scolaire" for the students. We make sure to have French servers present for these groups as to give the students the best practice we can! So if any of your needs fall under these criteria give us a call. If they don't, call anyways and we'll work as hard as we can to accommodate your needs!